Paid marketing plays an important role in the success of online businesses. Indeed, paid advertisements are one of the most popular and effective digital marketing methods.
SEA in digital marketing, refers to the strategy of paying for ads in search engines like Google, Bing, Yahoo, etc.
What is SEA marketing or Search Engine Advertising?
SEA, or "search engine advertising," is a form of paid marketing that allows companies to show their ads to people by paying to appear at the top of search results. It is a form of pay per click advertising (PPC) in which marketers bid for relevant search queries and pay for each click their ad receives. This definition of SEA refers to a style of marketing based on paid ads, which makes it different from SEO (which only focuses on organic results based on better performance of search algorithms).
Many marketers refer to this style of advertising as "PPC" or "paid search," and SEA marketing is generally interchangeable with these terms. However, PPC refers to a model of advertising across the entire web, not just search engines. In fact, "cost-per-click" style advertisements appear not only in search engines, but also in the most popular social media platforms, search shopping channels, third-party advertising partner websites, videos, etc
The meaning of SEA marketing refers specifically to the style of PPC ads that search engines serve. It concerns ads that appear on Google or Bing.
What is SEA in marketing? 
Now is the time to focus, because we will be using more and more acronyms! SEA therefore refers to "search engine advertising" which exists as a branch of SEM.
SEM stands for Search Engine Management, which is the umbrella term for the marketing world that includes both SEO and PPC, where brands and companies use search engines to grow their business and get more. traffic to their site. 
And as explained above, this definition of SEA digital marketing specifically refers to ads that operate on the pay-per-click model. Each time someone clicks on your ad, you pay the bid amount (usually a few cents to a few dollars at most).
By bidding on search keywords, marketers compete for the chance to have their ads appear in search results for terms important to their business. Since Google and Bing only offer these types of ads as PPC, most people understand that "SEA marketing" and "search engine PPC" essentially mean the same thing.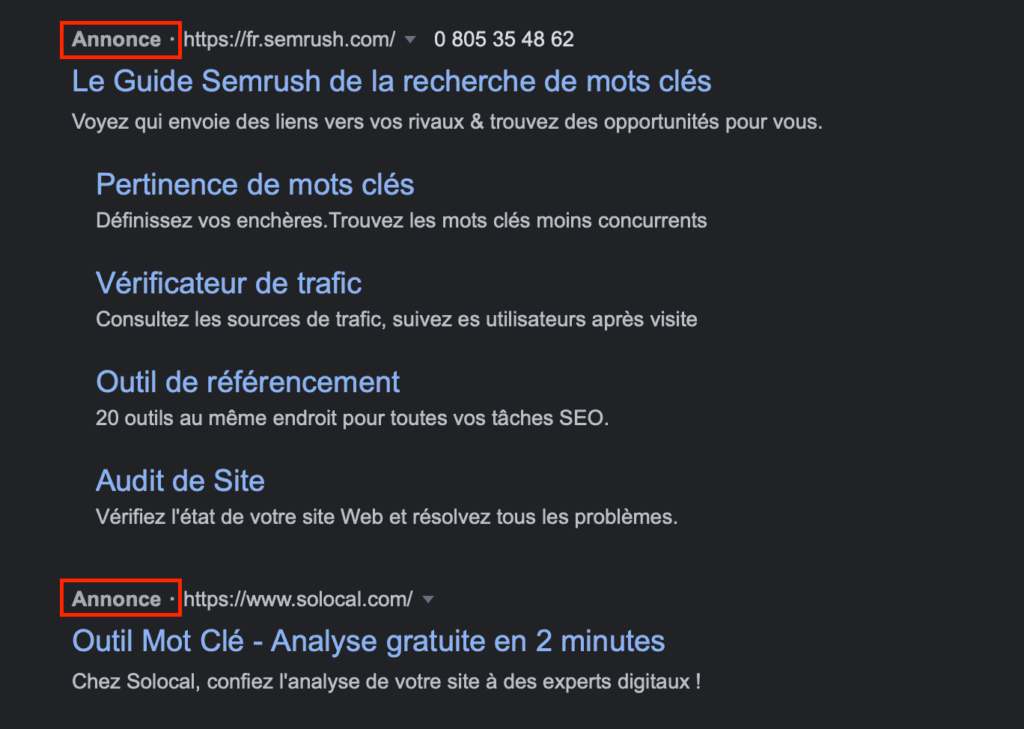 How does online SEA marketing work? 
Last year, SEA paid search overtook organic search as the leading method of generating revenue in online marketing. The data suggests that as many as 65 % of people click on ads when making purchases, especially with search ads.
To do SEA marketing with Google, you need to use Google Ads (formerly known as AdWords), and for Bing you will need to use an account Microsoft Advertising. Both platforms are free to use, but the ads themselves operate on a budget provided by the user, which feeds into the pay-per-click auction system.
Since these ads are bid-based and "cost-per-click" based, the cost of running them depends on your personal budget. For business websites that want to generate revenue quickly, SEA digital marketing is a good strategy because they are free to set their budget as they wish. Revenue growth and success are almost instantaneous compared to organic search marketing and all the better if you develop a good strategy. 
One of the best advantages of SEA marketing is that it gives results very quickly unlike SEO which requires you to wait longer to see positive results.
For online SEA marketing on Google, advertisers need an account to serve ads through the Google Ads platform. For Google, the actual position and performance of ads is determined by a ranking system called " AdRank », which uses both your bid amount and your site's Quality Score, along with a few other factors. The ad system calculates your Ad Rank using these factors along with expected ad performance, relevance, landing page experience, extensions applied, and more.
This means that bidding isn't the only way to get a top spot or win the keyword auction. Even if your competitors pay more, you may win the auction if your ad or landing page is deemed better. Ad Rank is instantly recalculated each time an auction occurs (millions of times a day!).
SEA works on Bing the same way, but ads are created and managed by Microsoft's advertising platform.
SEA marketing with product purchase results.
There is another style of advertising that companies that own an online store can use to improve product performance.
Google and Bing both offer results from paid shopping for SEA marketing. These results work as a style of ads that display products and items for sale directly in search results. These types of ads look like product listings and show up in search engines, usually for product-related queries or retail items. These ads work as a feature that allows users to view products from different retailers, on a single page, without having to navigate directly to individual websites (like they would on an e-commerce marketplace such as Amazon). or eBay).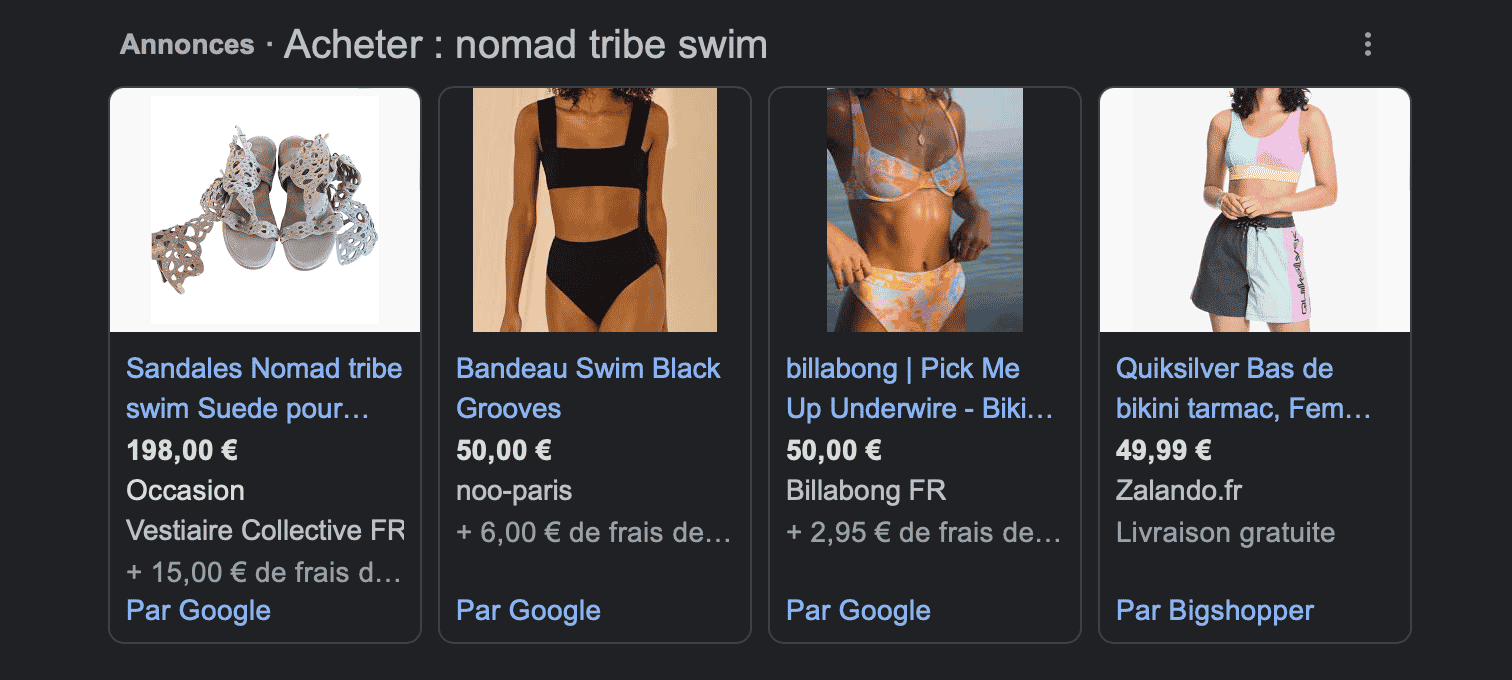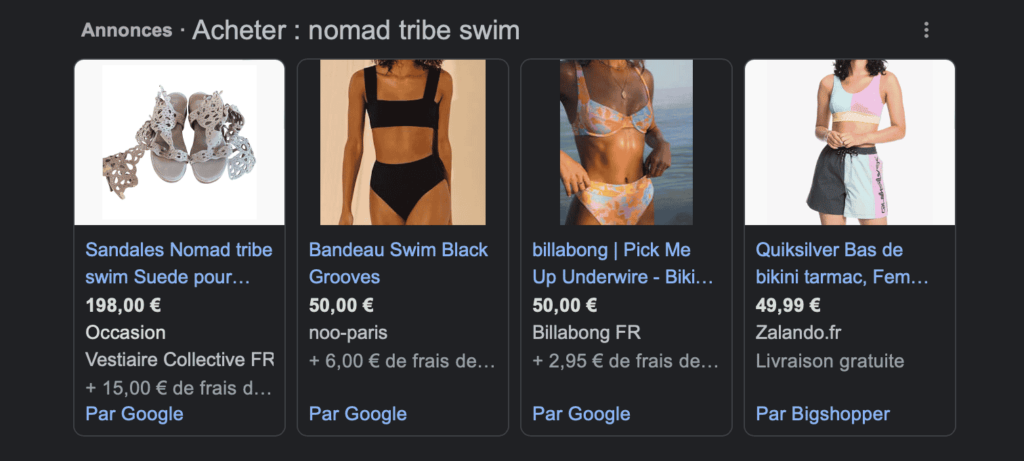 Google offers shopping product ads only through its Merchant Center platform. Businesses can set up their SEA paid search campaigns through this free platform after porting the required product details. Bing Shopping campaigns must be created through the Microsoft Merchant Center (MMC).
Google Shopping SEA campaigns offer 3 types of ads:
Regular Product Shopping Ads are the primary form of listing and appear in the product listing section under the main 'Shopping' tab.
Showcase Shopping Ads can be created on Google Ads by grouping related products in ads or in the Google Ads API. One of the biggest benefits of Showcase ads is that they allow the marketer to showcase a range of products for just one general search term, allowing them to showcase their entire range of options.
Local catalog ads. They are created from local inventory ad feed data to attract shoppers to the Google Display Network. They help generate traffic for local stores.
Another Google Shopping option is to show ads on "surfaces across Google." This SEA marketing option means businesses can place their paid product ads on various Google surfaces, including Image Search, the main Shopping tab, Google Lens, and regular search carousels.
Businesses must set up their search ad campaigns in Google's Merchant Center or Microsoft's Merchant Center.
The importance of keywords in SEA marketing
Keywords are at the heart of search advertising because ads are designed to display based on specific search query, relevant and often manually selected.
The high return on investment of SEA online marketing
One of the reasons paid search engine advertising is so common is that it is one of the most successful forms of digital marketing. Its popularity is due to an excellent ROI.
Google states that pay-per-click SEA marketing typically generates $2 in revenue for every $1 spent, on average. This 100 % ROI comes from the fact that search ads can be refined to target specific audiences and keywords to appear in the top 3 search positions. Which means they get up to 40 % of all clicks from search engines.
Additionally, site visitors who come from paid search traffic are 1.5 times more likely to convert. According to a study by Wolfgang Digital, digital marketing in Southeast Asia is now the most revenue-generating channel there is. This is why PPC marketing is important to so many online businesses.
SEA online marketing brings fast results
Another advantage of search engine ads is that they show results almost immediately. It's a big part of their popularity in marketing. Once an ad has been approved and placed live, it will begin to appear in search engine results pages.
And since the ads are more visible, they offer a very good CTR and, therefore, much faster traffic growth. For search ads on Google or Bing, advertisers configure them through each platform's portal. They create their campaigns/ad groups, set a budget, and then determine their ad settings. And that's all ! Once that's done, they can start serving ads.
This speed comes at a cost: this is the very definition of SEA. But it means faster sales and the ability to appear immediately in the eyes of millions of search engine users.
Also, this style of marketing is great for specific KPIs that slower types of digital marketing wouldn't work for. That is to say for: 
Launching a new business or site that lacks a brand reputation.

Launch new products and get product recognition.

During seasonal events, short term sales or holidays.

When expanding into a new industrial niche.

To quickly generate cash flow or sales.

To generate interest in an event or deadline.

To help promote brand recognition when competing against a dominant competitor.

Or, generally speaking, to subsidize a multi-channel internet marketing strategy.
How do SEA marketing and SEO go hand in hand?
There is obviously a big difference between SEO and SEA. Search engine advertising is based on paid results, custom-crafted ad copy, ad approval, and various other factors. But SEO works in the world of organic traffic and is based on principles designed to optimize a site and then let the search engine algorithm do the rest.
Companies have a lot more control over their PPC ads, and not as much direct control over how search engine algorithms judge their SEO. 
However, these two marketing strategies complement each other perfectly. It is better to do both! After all, you are targeting the same audience in both cases.
Even though there is no direct link between Google/Bing SEA marketing and SEO, companies that optimize for both are more likely to improve their organic traffic. This is because there is a lot of overlap between paid advertising and SEO. If you do the same keyword research and put the same density, you are already halfway to achieving the key strategies for natural and paid referencing. 
Companies that optimize their website and content in-place to get a better quality score often end up improving their site for better SEO. Additionally, a paid search ad campaign can help businesses increase backlinks, gain brand recognition, and get more shares. All of these can potentially improve SEO.
Should I hire a web agency?
Many businesses know the value of pay-per-click advertising, but don't necessarily know where to start. It is possible to advertise on search engines internally and for companies to manage their PPC themselves.
That doesn't mean it's the best choice.
Google and Bing offer services that allow businesses to show their ads as broadly or narrowly as they want. And since there's no minimum budget required for cost-per-click SEA advertising, it's quite easy for some companies to run small campaigns on their own. Since SEA marketing is such a valuable and successful strategy, multiple businesses choose to outsource their efforts to an agency that provides SEA campaign services.
But why hire experts in SEA management?
The main advantage of hiring a web agency is that they offer knowledge and experience that your team may not have. They will be able to set up a campaign quickly without having to fumble in the process. It will also have access to the tools and technology necessary for professional campaign management, performance monitoring and reporting that will help you understand how SEA paid search ads help your business achieve its key performance indicators.
Another important reason why many companies prefer to get PPC services is that a web agency will offer a dedicated account management team that can provide:
The configuration, management and processing of Google Ads campaigns (start and end of campaigns).

Tracking campaign factors such as keywords, negative keywords, bids, ads, and landing pages.

Adjustments to your ads and content suggestions for Quality Score optimization and better Ad Rank.

Budget recommendations, forecasts and ad tests to target your business goals.

Monthly account performance reports.

Removal/replacement of poor performing and expensive keywords to reduce ineffective ad spend and save budget.
With Geekworkers, you will be accompanied by paid referencing experts who master all the subtleties of paid campaigns. Our web agency will be able to create ads for you on Google Ads, adapted to your objectives and your target to allow you to be in top position on Google.

We can also set up SEO and social media strategies thanks to our SEO & Social Media Packages to strengthen your digital marketing strategy and become the leader in your field of activity.