OpenAI creates a new conversational technology! Her name : ChatGPT. A revolutionary AI that can answer complex questions in a very realistic way. ChatGPT has already made waves among users for its ability to deliver human-quality answers, and it could be the most significant technological advancement since the invention of modern search engines!
ChatGPT is set to revolutionize how we interact with computers, making finding information lightning fast and accurate. Expect ChatGPT to give you such a specific answer that you'll think your co-worker is answering you out loud.
Should search engines like Google be worried? Let's first see what OpenAI's new AI chatbot is all about.
How is ChatGPT built?
ChatGPT is an amazing chatbot powered by OpenAI's GPT-3.5, which enables remarkably human-like conversations, thanks in part to reinforcement learning with human feedback (RLHF). ChatGPT learns the skills needed to ensure your conversations are satisfying with every interaction.
He's a conversation partner like no other. It starts with trained language models to predict the next word and uses reinforcement learning on top of it for more accurate responses.
The great linguistic models: the basis of the chatbot
ChatGPT is a technology based on large language models (LLM). These are built on a significant amount of data in order to predict words and phrases as accurately as possible. Predictions capable of generating paragraphs and full pages of content. Ultimately, LLM Technology acts as a co-author.
However, these language models have their limits. Although an impressive amount of data is processed, the technology does not understand human intentions.

And that's where ChatGPT makes all the difference! Through Reinforcement Learning with Human Feedback (RLHF).
RLHF to boost AI performance
Reinforcement learning with human feedback (RLHF) is an approach to machine learning that uses rewards and punishments to guide the learning of a machine model. This implies that learning is driven by human interactions, rather than predetermined algorithms. In RLHF, a human provides feedback to the machine about their actions, indicating whether they are correct or not, and rewarding or punishing them accordingly. The goal is to allow the machine to adapt and improve over time based on this feedback, so as to achieve optimal behavior. RLHF is often used in contexts where it is difficult to explicitly define the desired rules of behavior, or when it is desired that the machine adapt to changing environments.
Impressive, right? Especially since the paragraph you have just read is the very proof of this.


A powerful AI chatbot to answer any request
ChatGPT was therefore built on both an immense amount of data and the RLHF. As a result, the AI learns to understand the expectations of humans when asking a question.

The training of the technology is thus improved, since we no longer seek only to predict a sequence of words and sentences, but to understand at 100 % the intention of the Internet user.

To do this, ChatGPT was trained using human feedback. Rather than relying solely on existing metrics to assess the performance of natural language processing AIs, the researchers decided to train an AI to something closer. of human judgment. Thus, they provided a dataset containing several possible answers and allowed humans to express which ones were the most satisfying – thus giving the machine direct feedback from us!
How to use ChatGPT?
ChatGPT opens up a whole world of possibilities for you! Use OpenAI's chatbot as an assistant writer to help you create content on any subject imaginable.
An easy-to-use chatbot
In addition to acting as a search engine capable of giving you answers to any request, OpenAI's ChatGPT does not require significant experience in the field of artificial intelligence. The tool has been designed to be used in the simplest way possible:
1 – Enter your request 2 – Let ChatGPT do the rest.
And voila !
What types of content can be created with ChatGPT?
ChatGPT opens up a whole world of possibilities for you! Use the chatbot as a writer's assistant to help you create content on every topic imaginable.
Write your sales pages
Do you need an impactful sales page to boost your conversion rate, but you don't know where to start? Ask the question to ChatGPT which will prove to be a real guide to help you build a perfect sales page! Or, you use it to give you advice.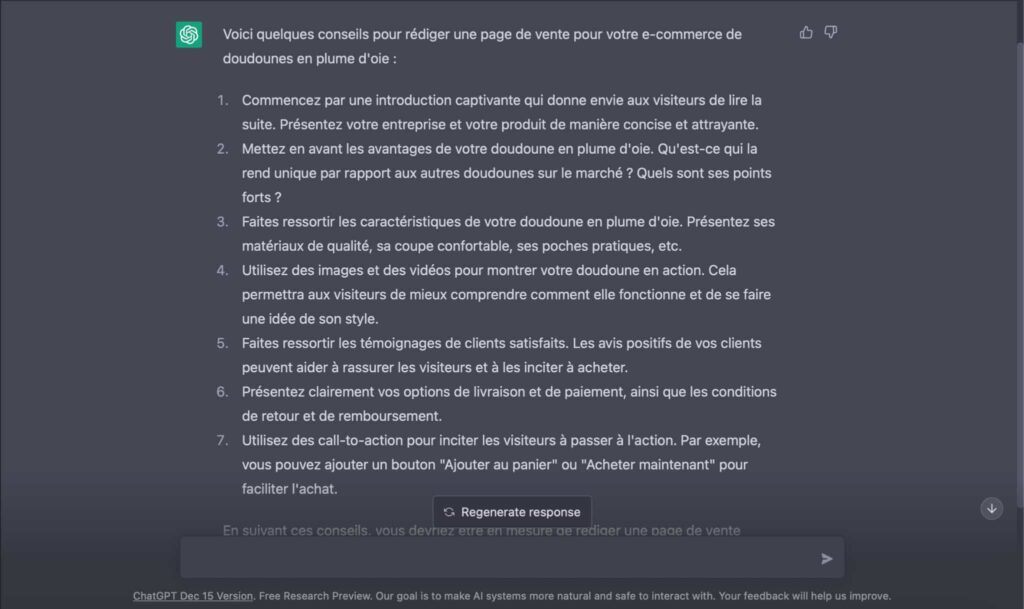 Or he completely writes your page for you.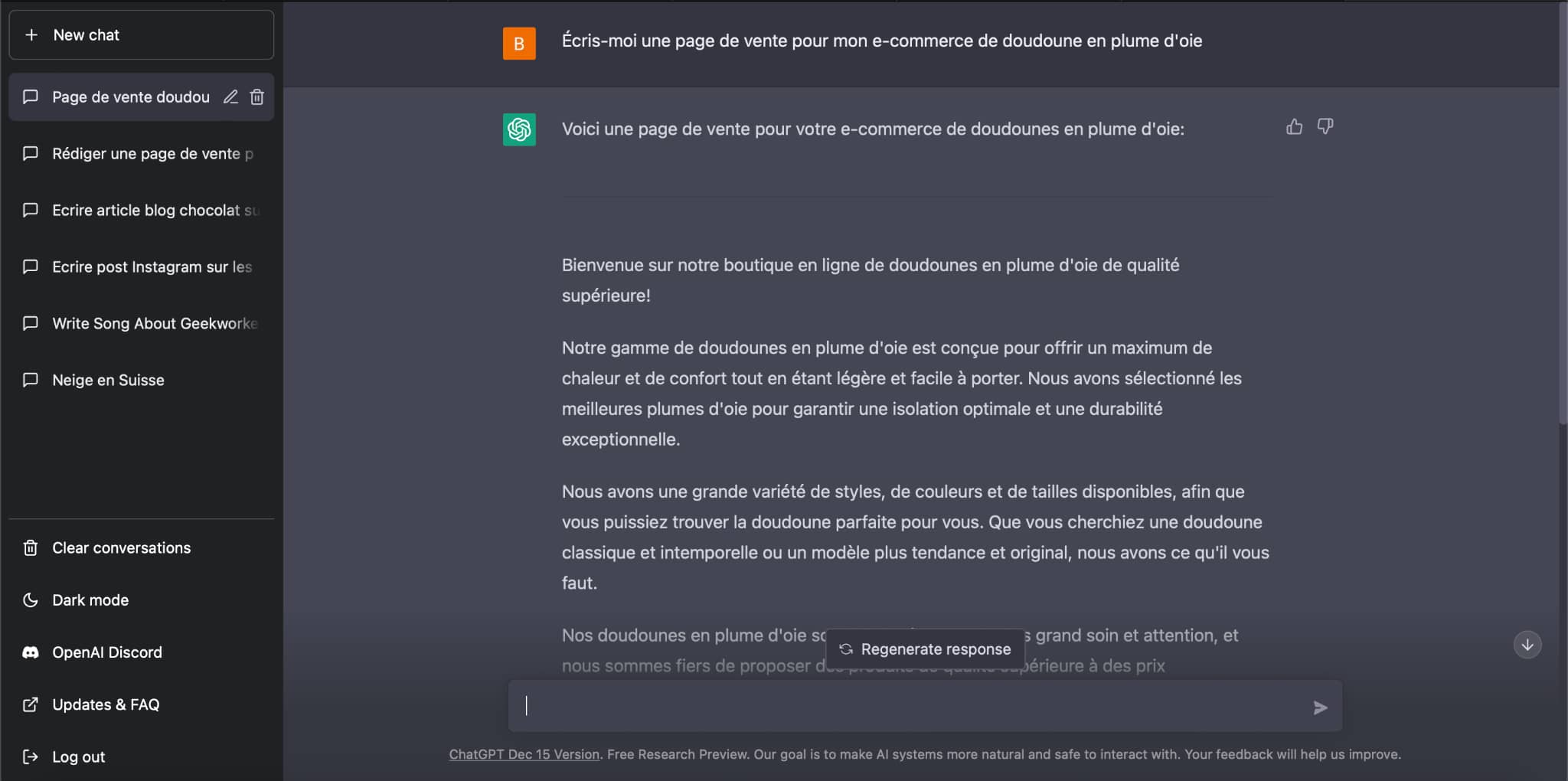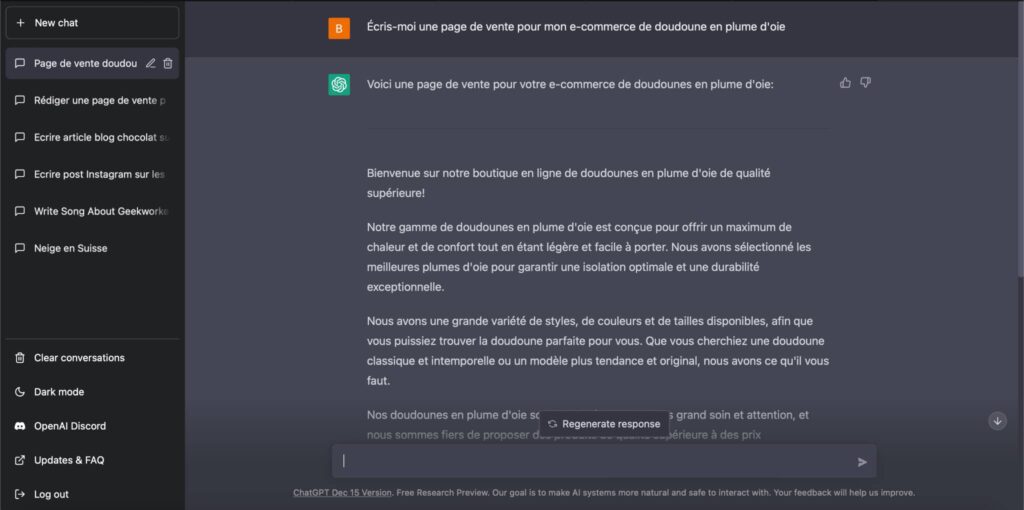 The difference between these two answers? For the first, we asked: "Write a sales page for my goose down jacket e-commerce"
For the second: "Write me a sales page for my goose down jacket e-commerce".
See the power of AI chatbot which makes the difference between a request for advice and a direct request for writing.
Strengthen your blogging strategy
Are you stalling a bit on writing your next article or do you simply want to speed up the pace in terms of production? Take ChatGPT with you and find new ideas quickly.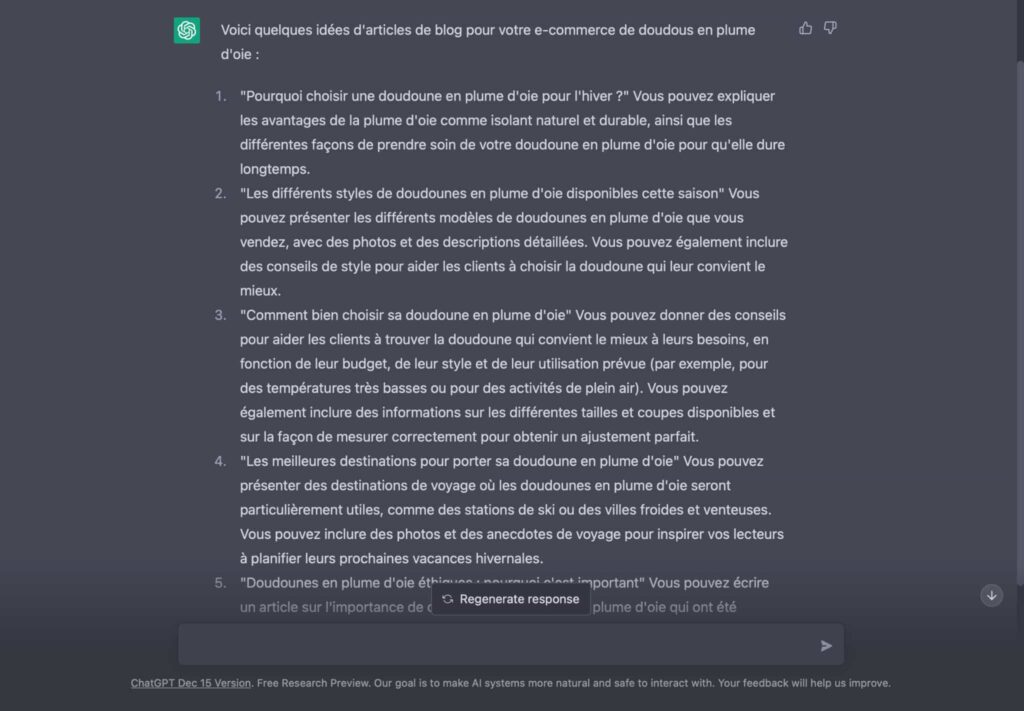 You now have 5 new article ideas. Now, how about testing writing them with ChatGPT?
Write your social media posts
You do not know where to start to write your posts on your social networks? Ask ChatGPT to lend you a hand and it will find you the perfect angle for a flawless post!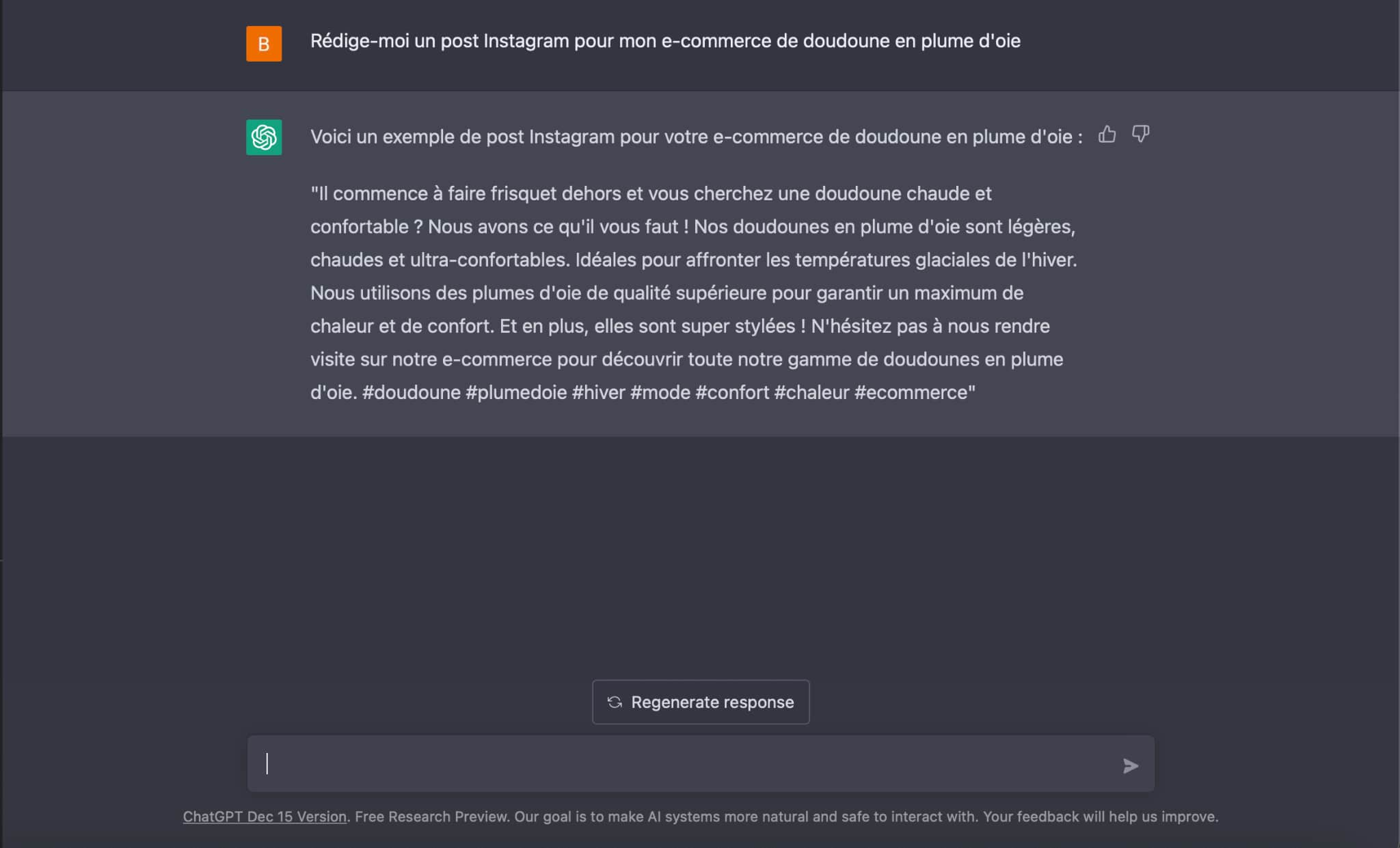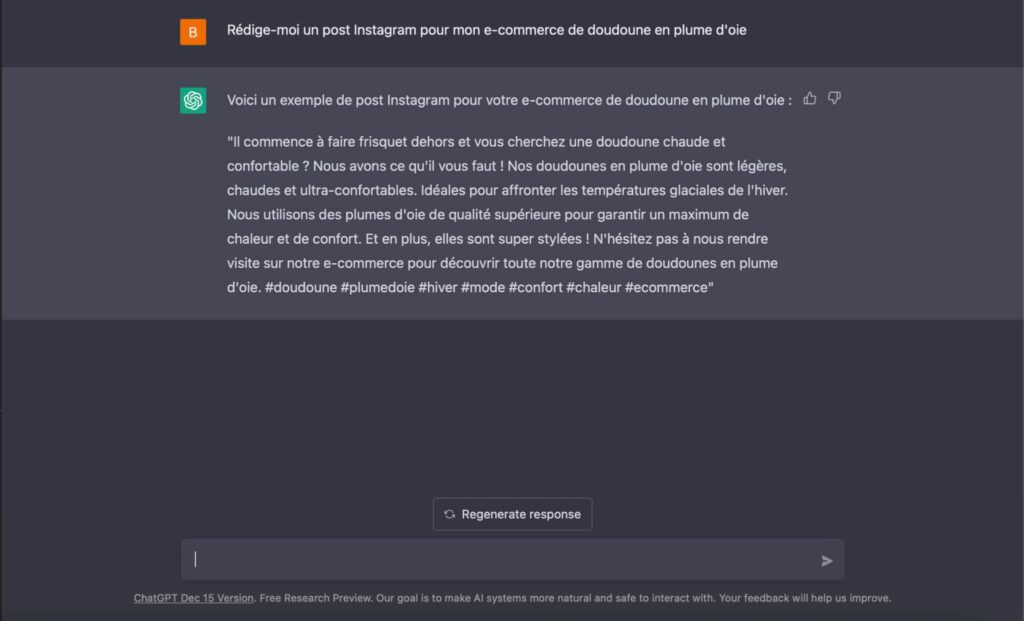 ChatGTP: an AI that has its limits
While its groundbreaking capabilities have so far proven incredibly effective, it's important to remember that ChatGPT, like all technologies, is not without its limitations.
Limits of toxic response
The ChatGPT bot uses advanced algorithms to make sure your conversations don't drift into dangerous territory. So you can have fun and get answers without worrying about content!
The quality of the answers depends on the quality of the requests
ChatGPT is a powerful AI system, but to get the most out of it, you need to provide quality requests. Pretend to be ChatGPT's guide along its journey. The better your instructions, the more awesome answers you will receive.
Despite these limitations, the technology remains an exciting development in the field of artificial intelligence and holds great promise for the future.
An AI chatbot with a small margin of error and a lack of originality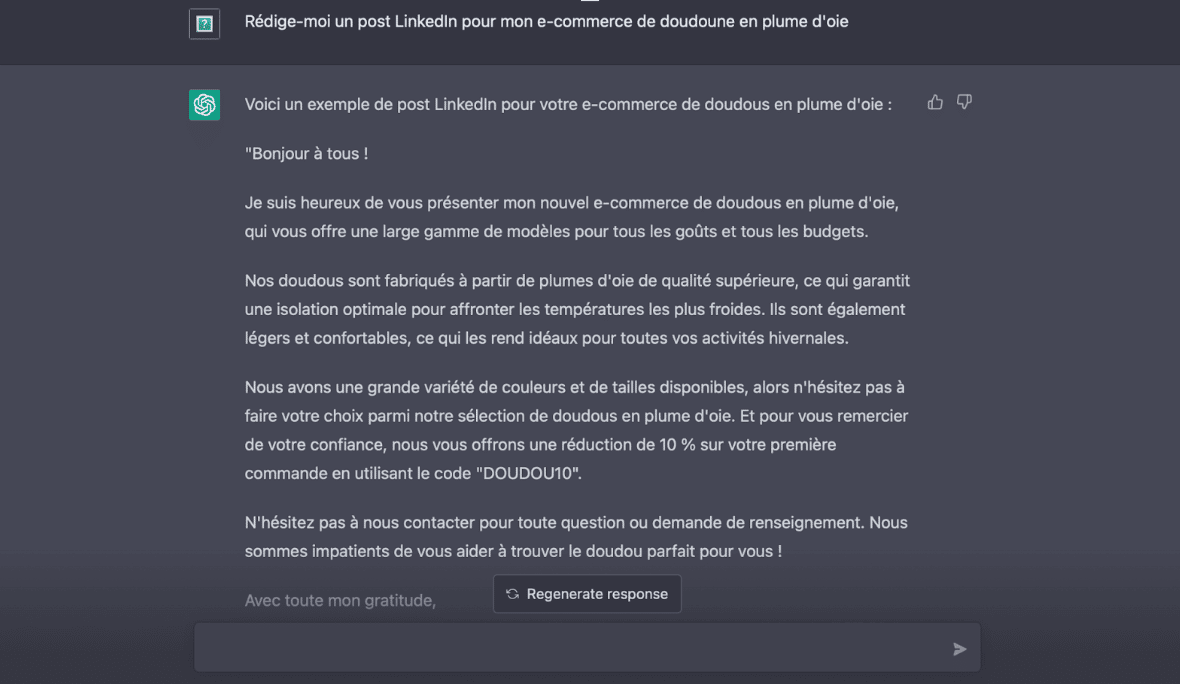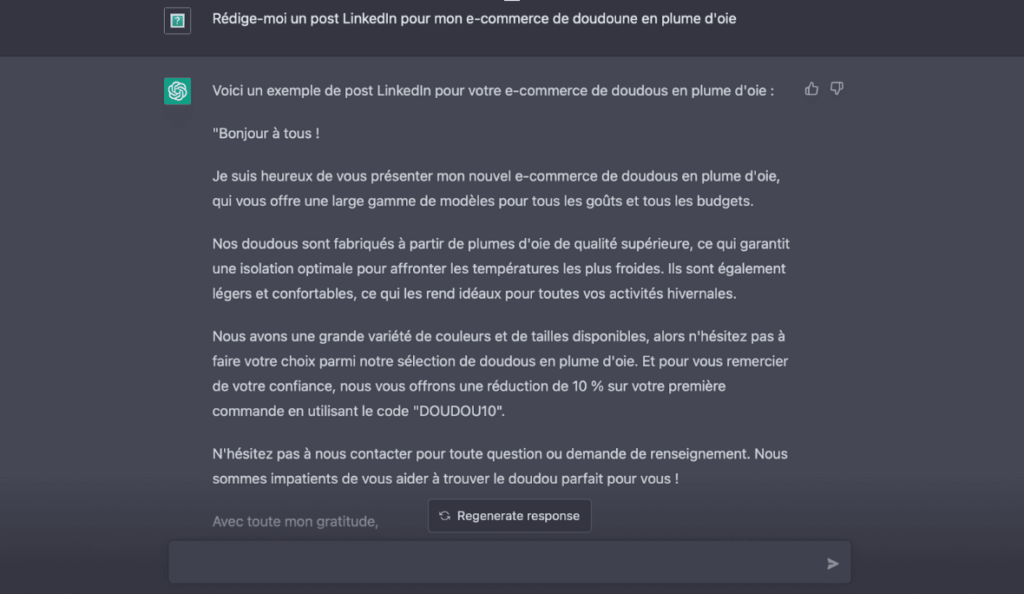 The example speaks for itself, the chatbot does not always provide precise answers and seems not to understand, on each try, a precise request. Hence the importance of always verifying the veracity of the information provided by the OpenAI chatbot.

Moreover, even though this AI allows you to have access to the desired information in a few clicks, it is obvious that this kind of tool does not allow you to create totally unique content. Why ? Because, in your content creation, it is imperative to highlight your values and your brand image. A copy-paste paragraph offered by the tool will certainly not differentiate you from the competition. And we might even think that in the future, Google will penalize this almost "robotic" tone of AI.
Perhaps ChatGPT should be viewed as a research and writing tool for the time being, rather than a full-fledged writer.
Will artificial intelligence replace natural search?
ChatGPT, your content creation ally
From composing codes and poems to creating short stories in every style imaginable, this amazing AI-driven tool will tackle all your writing problems. It's like having an always-on expert at your fingertips – ChatGPT has answers for just about any text-based task!
A real contender for search engines
Increasingly present, AI wants to be an essential technology in the future. Whether software like Jasper, MarkCopy or Google's AI chatbot (LaMDA), the performance is breathtaking. You can end up with an entire blog post, in just a few clicks!

These language models tend to replace natural search and many marketers see these AI chatbots as real competitors.
A bright future awaits these new technologies, so why not take them in hand right away to make them our new everyday allies for ever more powerful marketing? And if, however, you want to collaborate with humans, entrust your content creation to Geekworkers, the best Swiss web agency! (And ChatGPT says so).